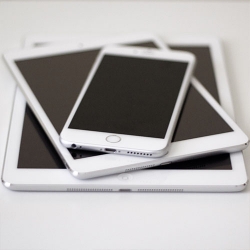 When your iPad breaks, it hurts. We understand. We can get you and your device up and running in no time, with no hassles. All of the repairs that we normally perform on phones can also be done on tablets and iPads! Your iPad is built to last, and can handle pretty much anything you throw at it. Accidents do happen, though, and a cracked screen can be a real let-down.
Just because you dropped your iPad in the sink or accidentally spilled coffee on it, doesn't mean your device is done for. The skilled professionals at Dino's Cell Phone Repair have experience repairing water-damaged iPads and will do everything they can to save your device.
Our extensive experience allows us to offer a wide array of high-quality repairs ranging from common iPhone and iPad screen repairs to Mac upgrades, heavy water damage repairs, data recovery and factory unlocking. Most repairs can be done as you wait in our shops while you wait, so feel free to stop by anytime during our operating hours. No appointments are needed!
If you have a broken iPad screen or even a water damage iPad we can fix it! Dino's Cell Phone Repair technicians near you can repair your cracked screen, fix your jammed button, replace your dead battery, and more on your iPad. We use only the highest quality replacement parts, backed with the best warranty in the industry to get your device functioning and looking like new again.
Our highly skilled technicians are up for any challenge or repair that you may need, and are here to help you regardless of how big or small the problem may be. In addition to iPads, we also offer repairs on many other popular Android devices including most Samsung tablets and the Kindle Fire. Before you give up and buy a new tablet consider having Dino's Cell Phone Repair fix your device! It does not cost anything to get an estimate and generally most repairs are a lot less expensive than a replacement!